Cane Creek Labradors
Asheville, NC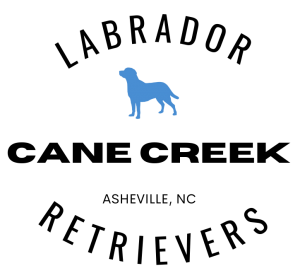 Welcome to Cane Creek Labrador Retrievers. We're a dedicated breeder that focuses on producing the highest quality Labrador Retrievers. Our pedigrees contain many Champion & Master Hunters and hold true to the desired breed standard. We produce our dogs from the best bloodlines and monitor our breeding pairs for the most prevalent health concerns. Our dogs are AKC registered and come with all documentation.
We raise our dogs on our farm just outside of Asheville, NC, a beautiful city in the mountains of Western North Carolina. Our dogs are whelped in our first-class facility, with access to the best trainers and medical care available. We strive to produce the best dual-purpose dogs. If you have any questions about our labs, please don't hesitate to ask.
Ready to find out more?
Click here to learn more about Cane Creek Labs!